HS2223: Spain 1898-1939: Modernity and Crisis
Academic year 2019-2020
The classes offer an overview and an opportunity to debate ideas. But you will only derive full benefit from the course if you read widely. You should consult the recommended general texts (see top of the general bibliography) and preferably buy at least one or two of them. In order to prepare you must (each week in advance of the class) read some of the prescribed material listed on the class work sheet – at least some of which will be available in electronic form. Obviously essays will require further intensive reading. If you need to, please ask for advice about what best to read. Please also try to co-operate with other students when using library books in order to ensure rapid circulation. The bibliography provided is mainly in English since most students on this course do not have a reading knowledge of Spanish. There are some Spanish titles in the RHUL Bedford Library. Others are available elsewhere in University of London libraries.

Although there are no prescribed readings for this week, the introductory lecture and tutorials will run normally.

The Restoration Monarchy and the Politics of Containment

31 items

Supplementary readings

27 items

(i) Explore the workings of caciquismo. (If you are able, you may also like to compare and contrast the situation in Spain with the political/social systems of other continental European countries you

9 items

(ii) The `endurance of the old regime'?: examine the roles/workings of (a) the church and (b) army in Spain at the turn of the century (i.e 1898- to 1910s)

10 items

(iii) Make a list of the different kinds of social groups/classes in Spain. How would their experience of/feelings about this political system be different from each other? - i.e. describe the differe

8 items

Industry and the Politics of Nationalism: Catalonia and the Basque Country

4 items

Peasants and Workers

2 items

The Contemporary Crisis, 1914-23

5 items

The Dictatorship of Primo de Rivera 1923-1930

4 items

The Second Republic (i) democratic reform and its enemies

5 items

The Second Republic: (ii) polarization and crisis 1934-36

1 item

The Republic at war & the internationalisation of the civil war

13 items

The decisive international dimension of the Spanish Civil War, and the making of Franco's Spain

4 items

General Bibliography

24 items

Unless otherwise indicated, titles on the bibliography are to be found in RHUL's Bedford library. A few titles are available only in Senate House, as indicated. Code numbers are Bedford Library class marks.

Journals: Please note that in addition to the usual History and Social Science journals, the Bedford Library has in the past subscribed to the International Journal of Iberian Studies (and is now doing so again). This is worth perusing, especially for material on more contemporary issues (i.e. 1980 onwards) where there is generally less material available in English.

Most Useful General Titles:

Social History 2004

Journal Further Special issue of the journal entirely devoted to contemporary Spanish history.

Modern Spain: A Documentary History - J. Cowans 2003

Book Further A book of source material in translation. A good percentage of the content is also searchable via GOOGLE books: https://books.google.co.uk/books?id=dJl0BAAAQBAJ&printsec=frontcover&dq=modern+spain+a+documentary+history&hl=en&sa=X&redir_esc=y#v=onepage&q=modern%20spain%20a%20documentary%20history&f=false

The rest of the bibliography (mostly alphabetical order by author) is divided as follows:

391 items

1898-1931; The Second Republic, 1931-1936; The Civil War, 1936-1939. (For those students taking HS2224 a bibliography of post 1940 material will be posted to the HS2224 MOODLE site towards the end of the autumn term.)

Spanish History Since 1808 - A. Shubert, J. Alvarez Junco 2000

Book Further The contributions are of very uneven quality - but if you're stuck, the volume covers a fair amount of ground.

The Second Republic, 1931-1936

Section 3, 'The Failure of Democratic Modernization, 1931-1939'

Chapter Further nb. Graham in 'Nationalism and the Nation in the Iberian Peninsula' (Berg, 1996) (eds. C.Mar-Molinero & A. Smith) and Graham in 'Opposing Fascism: Community, Authority and Resistance in Europe' (Cambridge, 1999) (eds. T. Kirk and A. McElligot) also have information on pre-war period (articles listed in full under Graham in Civil War section below).

The Civil War

NB. See separate sections (below) on internationalisation of the conflict and on international solidarity with the Republic (the International Brigades and Aid Spain movements).

Note also that some of the titles in 1931-1936 section above also cover aspects of the war.

The Civil War: Internationalisation of the Conflict

See general titles above: also -

Spain Betrayed: The Soviet Union in the Spanish Civil War - R. Radosh, M.R. Habeck, G. Sevostianov 2001

Book Further This volume is important for the selection of primary source documents it contains. Use these, but beware the editors' highly contentious and frequently contradictory commentary. See Helen Graham's review in Science & Society, vol. 68, no. 3, Fall 2004 - photocopy available from Helen Graham.

International Solidarity with the Republic (Inc. International Brigades)

There is an enormous bibliogrpahy here, much of it memoir material (especially for the brigades). Some of this is in the Bedford Library but Senate House and QMW libraries have more extensive material, as does the Marx Memorial Library (see catalogue below). There is a fair amount of material in the more general books above, plus:

War of Words - J. Simpson 2012

Audio document Further See BBC Radio 4 series by John Simpson, 'War of Words', first broadcast summer 2012 and available online via Box of Broadcasts to which RHUL subscribes, so you can login with your RHUL email address at: bobnational.net and search the archive for it.
All rights reserved ©
Profile Required
Reading intentions and notes are stored against your user profile. Please create a profile to use this feature.
My notes
You must be logged in to add a note
What are item notes?
You can use item notes to make personal notes on any of your reading items. Notes are private to you and will not be shown to other users.
You can review your item notes from the list, the item page or from your profile page.
---
How do I create an item note?
To make notes, first you must be logged in. Once logged in, simply click Add note? next to the list item you wish to make notes on. You can also make notes at the bottom of every item's detail page.
Your note will be saved automatically as you type.
Have you read this?
You must be logged in to set a reading intention
What are reading intentions?
Setting up reading intentions help you organise your course reading. It makes it easy to scan through your lists and keep track of progress. Here's an example of what they look like: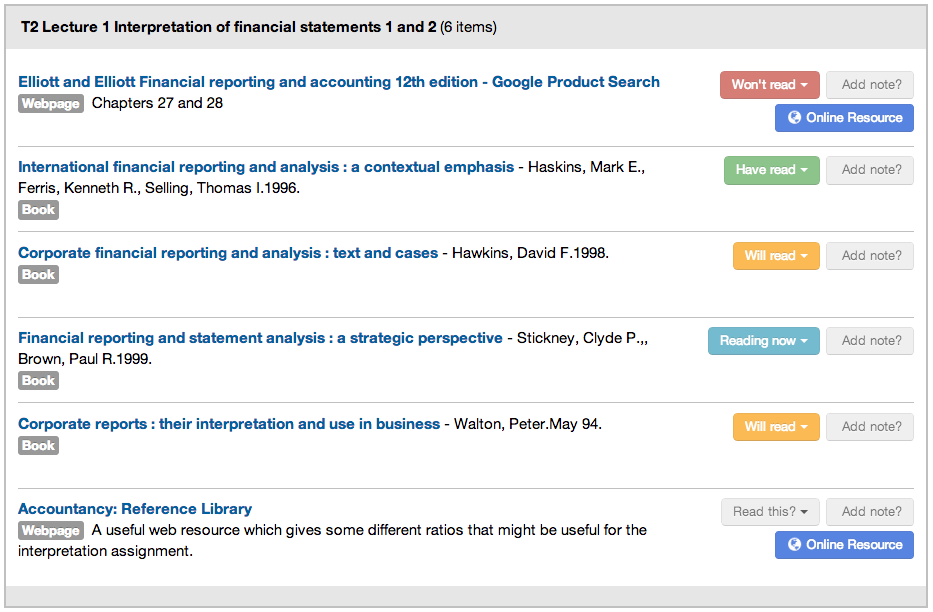 Your reading intentions are also stored in your profile for future reference.
---
How do I set a reading intention
To set a reading intention, first you must be logged in. Once logged in, click Read this? next to the list item you wish to set a reading intention for.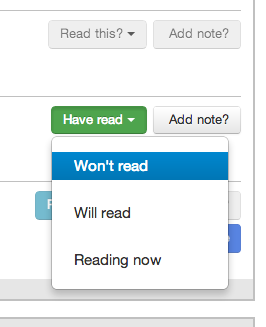 You can also set the reading intention from every item's detail page.