EN5131: Representing the Holocaust in Literature
Academic year 2018-2019
Required reading: In addition to the reading listed below, additional reading will be supplied, either online or as photocopies.

Kaddish for an Unborn Child - Imre Kertész, Tim Wilkinson 2010

Book Essential NOTE: make sure you get the Tim Wilkinson translation: the other one is rubbish.

READING WEEK. No set reading.

The kindly ones: a novel - Jonathan Littell 2010

Book Essential We will only be reading the first section of this masterpiece, and a little more to get a tone (this will be provided).

The Dark Room - Rachel Seiffert 2002

Book Essential Rachel Seiffert is giving our annual David Cesarani Memorial Holocaust Lecture in January and will be our first Writer-in-residence in early May 2019: this will include a one day workshop on her work, which we hope you will attend.

The Americanization of the Holocaust - Hilene Flanzbaum 1999

Book Further Furman, Andrew 'Inheriting the Holocaust: Jewish American Fiction and the Double Bind of the Second Generation Survivor 83-101.

Social Theory After The Holocaust - Robert Fine, Charles Turner 2000

Book Further Stone, Dan, 'Holocaust Testimony and the Challenge to the Philosophy of History' 219-234.
All rights reserved ©
Profile Required
Reading intentions and notes are stored against your user profile. Please create a profile to use this feature.
My notes
You must be logged in to add a note
What are item notes?
You can use item notes to make personal notes on any of your reading items. Notes are private to you and will not be shown to other users.
You can review your item notes from the list, the item page or from your profile page.
---
How do I create an item note?
To make notes, first you must be logged in. Once logged in, simply click Add note? next to the list item you wish to make notes on. You can also make notes at the bottom of every item's detail page.
Your note will be saved automatically as you type.
Have you read this?
You must be logged in to set a reading intention
What are reading intentions?
Setting up reading intentions help you organise your course reading. It makes it easy to scan through your lists and keep track of progress. Here's an example of what they look like: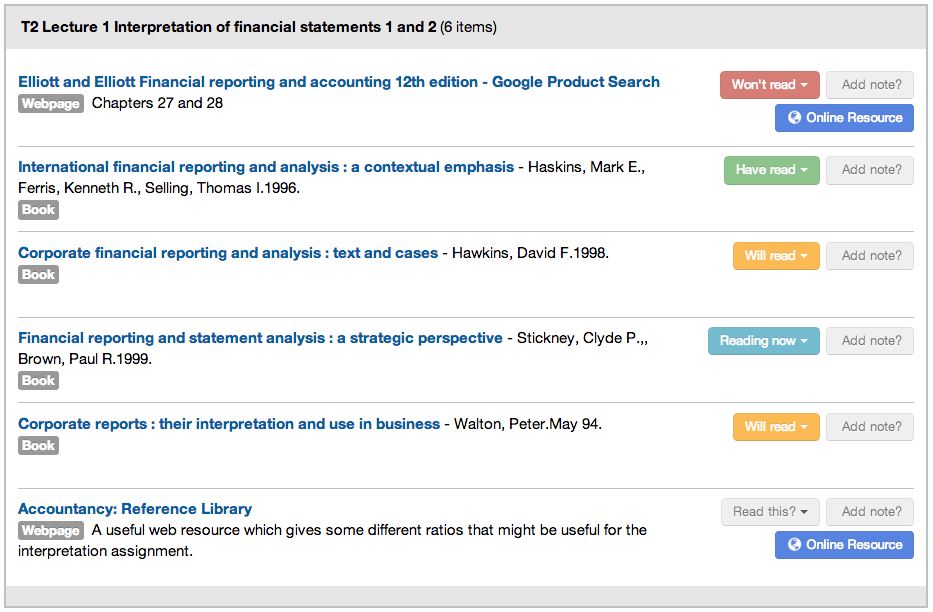 Your reading intentions are also stored in your profile for future reference.
---
How do I set a reading intention
To set a reading intention, first you must be logged in. Once logged in, click Read this? next to the list item you wish to set a reading intention for.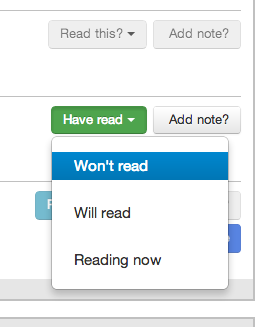 You can also set the reading intention from every item's detail page.